SIP Masterclass :: 2. Mastering Kamailio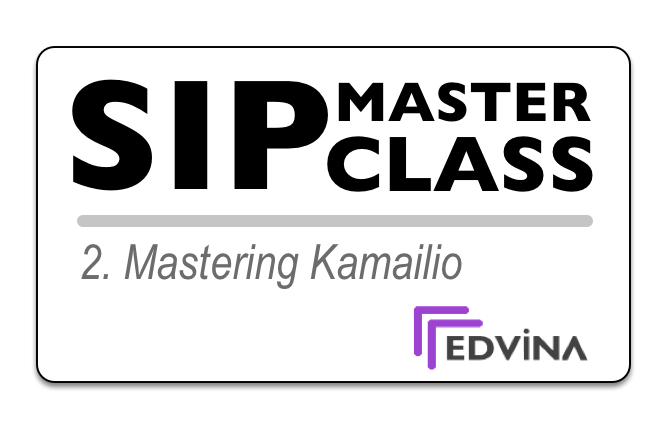 The SIP masterclass 2 :: Mastering Kamailio  follows up on the previous SIP Masterclasses and the Edvina SIP Masterclass ::  1. SIP and Kamailio.
Update on Kamailio
Labs on an advanced level
WebRTC gateways
API integration – restful application integration
This class will be focused on Kamailio in a large SIP service network. With a higher degree of labs versus presentations, it's a very practical class. All the labs are prepared in advance up to a point, then the students will have to take over and complete the task. The class focuses on using combination of modules to build solution, like using dispatcher, dialplan and permissions modules to build a SIP trunking platform or xHTTP, WebSocket and Outbound to build a SIP over WebSockets WebRTC gateway. Learning how modules interact with the protocol and how the protocol can be used to build scalable secure and resilient platforms is the focus of this class. Students will come home with a large set of configurations and new knowledge to put in production use.
In short:
Four days of lessons and labs with the SIP protocol, WebRTC and Kamailio
The class covers configuring Kamailio beyond the very basics. Using modules in new ways and building platforms with Kamailio
Training with Olle E. Johansson, developer and Kamailio consultant with over 10 years of experience in building large scale platforms with Kamailio
Target group:
Students of previous SIP MasterClasses organised by Edvina.
Students who are familiar with the SIP protocol
Students who are familiar with installing and configuring a basic Kamailio server
What you will learn in this class:
Kamailio APIs – RPC, event API, HTTP restful interfaces
SIP trunking with Kamailio – setting up a SIP trunking server
Security – setting up TLS, verifying IP addresses with the permissions module and dispatcher
WebRTC with SIP over WebSockets and Kamailio
Managing a Kamailio network – testing, network management and Nagios/Icinga, testing with SIPP and SIPsak, monitoring with Homer SIPcapture
Failover, redundancy, scalability with Kamailio
SIP over IPv6 and the legacy protocol IPv4
The SIP Masterclass 2 – Mastering Kamailio is the perfect opportunity for someone who has been using Kamailio in the network, but want to learn more and use Kamailio fully in the future. Practical labs and advanced tutorials together will bring the students up to speed with generation 4 of Kamailio – the leading SIP server based on OpenSER and SER.
What makes this class unique?
The class is based on years of experience – not only from training, but also from actually implementing Kamailio and Asterisk in all kinds of networks, from service providers and enterprises to call centers and various application services
You will learn from a developer that knows the applications inside out
Interactivity – the class mixes classical teaching with labs in an interactive way
Standards based – the SIP sessions are not unique or special for Asterisk, FreeSwitch or Kamailio – they're applicable to all SIP devices
In-depth-security – the class covers the SIP security standards and discusses the implementations in Kamailio
Learn from the SIP master: Olle E. Johansson
Olle has been teaching network classes for many years. He wrote the first Asterisk Bootcamp and created the DCAP certification for Asterisk. Olle is also a co-founder of the Astricon conferences, now operated by Digium. During 2006-2012 he ran a class called "the Asterisk SIP Masterclass" that started from the Bootcamp and introduced the SIP protocol and Kamailio. From 2012 the class was changed to "The Edvina SIP Masterclass"  and focused more on Kamailio. This class builds on experiences from all those trainings and adds new labs and covers parts of Kamailio not covered in the other classes.
Olle is an experienced teacher and consultant, as well as an Asterisk developer and member of the Kamailio developer team. He is a co-author of several documents in the IETF and active as a co-chair in the SIP Forum IPv6 working group. Olle focuses on the SIP, XMPP and WebRTC protocols and have over 10 years of experience of building large scale platforms for carriers, call centers, equipment manufacturers, enterprises and universities with Open Source tools.
Details about this training
Price  vary depending on cost of training center. The price includes training, documentation, lunch and refreshments.
We do not give refunds on late cancellations or no-shows. Cancellation has to be sent to us at least two weeks in advance.
Times: The training starts at 10 AM on the first day, ends 3 PM on last day. Other days, it's 9.00 – 17.00.
All payments are done in advance.
Labs are run on virtual machines on student PCs. If virtual machine in bridging mode doesn't work on your laptop, bring a Raspberry Pi or a similar system. Students are also encouraged to bring SIP phones of all kinds. Make sure that all equipment is insured by you or your company. Edvina and the organising company will bring a network infrastructure.
Lunch is not included, but coffee/tea in the breaks are included.
First class: Malaga, Spain April 2017
The first edition of this class will be organised with Avanzada 7 in Malaga, Spain during April 18-21, 2017
Mail us today to let us know that you're interested! info@edvina.net!