IT-center awarded for Portuguese University project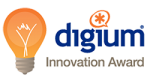 IT-center, one of our partners in the Open Unified Communication Alliance has been awarded the Digium Innovation Award 2010 at Astricon in Washington DC this year. Congratulations!
Digium writes:
"The 2010 Digium Innovation Award is ITCenter, located in Santa Maria da Feira, Portugal. Since 2003, ITCenter has differentiated itself by specializing in innovative solutions based on open source technologies, including Asterisk. ITCenter used Asterisk to interconnect all 48 Portuguese Higher Education & Scientific Institutions, integrating 220 existing legacy PBX systems and enabling VoIP communications between all the institutions without any change to its existing phone systems. The implementation provides centralized management and billing of both the legacy and new system, while supporting an infrastructure that processes approximately 7 million monthly calls."
They got the award for the project that Edvina, IT-center and Wavecom built for the Portuguese universities. The platform is now running in over nearly 50 universities, on over 500 servers and handling over 100.000 phone lines for employees.
The solution is based on Asterisk and Kamailio servers, with FreePBX as the core PBX engine. Edvina built the SIP architecture and also added many new functions to Asterisk in this project.
Comments