The new Edvina SIP Masterclass – Stockholm and Miami this fall!
Edvina today launches a new training class, based on years of experience of inhouse and public classes in SIP, Asterisk and Kamailio/OpenSER. The new class focuses on the SIP protocol and the Kamailio Open Source SIP server. By combining lessons on the core SIP standard with the Kamailio implementation and labs, the students will learn interactively and get real configurations to bring home. The new class will launch in October in Stockholm, Sweden and in December in Miami, Florida, USA.
– "We've updated the training materials during a series of in-house trainings during 2011 and 2012, which means that the material is almost totally new compared with the original class held seven years ago." says Olle E. Johansson, Edvina's founder and the teacher in the classes. "We've added more labs and more information about SIP presence and security. For students, this is an upgrade that fits everyone that has worked with Asterisk, FreeSwitch or Yate for many years and wants to learn how to scale and add new SIP services to their solutions."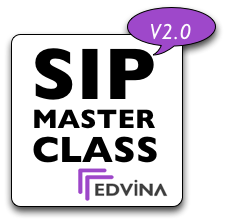 Experienced teacher guiding the way
Olle has many years of experience in trainings. He wrote the first Asterisk Bootcamp trainings in 2005 and was the author behind the Digium dCAP certification for Asterisk. Prior to that, he has been doing years of training in TCP/IP networks, from network basics to LDAP directories and SSL/TLS solutions. In addition he's working as a consultant building large platforms with Kamailio and Asterisk as the primary tools. He has been involved in both Open Source projects since 2002,  as a contributor, documentation writer, coder and project member.
From SIP to scalable realtime platforms with Kamailio
This class is built for persons that have used the PBX-class tools like Asterisk, Yate and FreeSwitch and wants to learn how to scale and add new applications like presense and instant messaging to their solution.
The class will spend a lot of time on the SIP standards, then move on to how to implement them using Kamailio – the Open Source SIP server – in combination with other tools. After the class, you will not only know how to operate Kamailio – you will also have a lot of knowledge about how the SIP standard works, what to expect from devices and how to troubleshoot your realtime network.
Registration is open – and there are significant discounts available for the first class in Stockholm!
PS: A special thank you to Redfone Communications in Miami that hosts our training in December!
Comments